Appearance plays an essential role in the overall success of any business. A building with cracked, faded storefront glass or grungy glass panels sends customers the message that the owner isn't concerned with the way the business looks, and may even suggest a lack of professionalism across the board. Luckily, Dave's Glass Co. offers a wide range of commercial glass repair and replacement solutions to business owners who are faced with weak or flawed commercial glass. We'll help make sure your business looks its best and sends the right message to your clients!
Whether you're interested in repairing damaged glass front doors, installing glass partitions in your up-and-coming business, or investing in intensive renovations, you can count on the Dave's Glass Co. team for excellent craftsmanship and comprehensive customer service.
Our glass company has been proudly assisting business owners throughout the Albany area since 1983, and we will work hard to ensure that our services are tailored to perfectly match your needs. Our essential blend of creativity and skill is just what you need to plan and execute your commercial glass installations and repairs.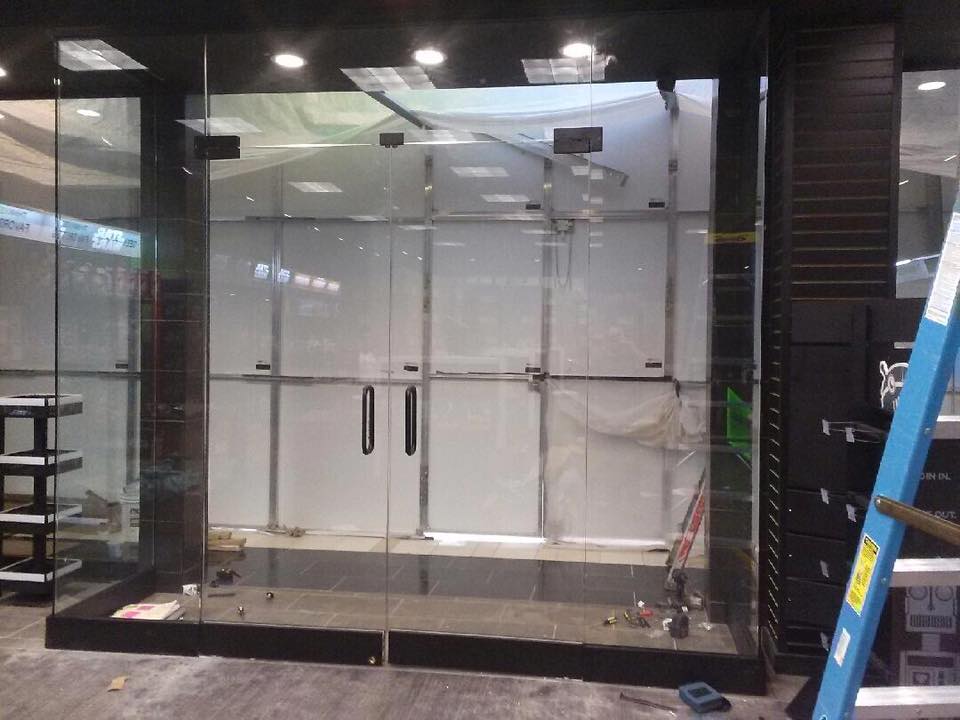 We are available to provide you with:
Glass panels
Window glass
Glass railings
Glass staircases
Glass awnings
Heavy glass frame-less doors (Herculite Glass Doors)
Storefront glass
Exterior glass doors
Glass partitions
Pizza cases and display glass
We are also one of the few glass companies in the Capital District that is skilled in the installation and repair of revolving glass doors.
Custom Glass Solutions
The team at Dave's Glass Co. will begin by meeting with you to discuss and develop your plans regarding commercial glass. Once we've obtained an accurate idea of your vision, we will examine your building to determine the best way to help your plans become a reality. Some customers are interested in handsome storefront glass to display their products and allow the entrance of natural sunlight into their establishment. Others want to learn more about which kinds of glass front doors and window glass have the strength to provide reliable security. Dave's Glass Co. will be able to educate you further on your options, letting you know which grades of glass offer properties such as sound dampening, increased energy efficiency, privacy tints, and more.
Just let us know what you're looking for in your commercial glass doors, windows, and displays, and we'll work hard to match you with the perfect product and design.
Glass Displays
The right presentation of your products can mean the difference between "sale" and "no sale." Let Dave's Glass Co. help you sell more than ever by making sure that your merchandise looks great in a new, customized glass display. In addition to making sure that your products look appealing to your customers, they can also be important for your continued success. Cut down on shrinkage and make sure that your merchandise is protected by investing in a quality glass display from Dave's Glass Co. We can design and create original glass panels, shelves, and doors to perfectly match your practical and aesthetic concerns.
From glass pizza cases to glass partitions, call or e-mail Dave's Glass Co. today to have high-quality original or replacement glass installed in your place of business. We emphasize long-term durability and stunning beauty to ensure your complete satisfaction, and our professionals will go to extra lengths to make sure that all of your custom specifications are met. The right commercial glass can have an immeasurable effect on your company. Take control of your business's environment: Contact our glass company today.