Residential and Commercial Glass Replacement
Glass plays an integral role in our everyday lives. Every time you look in a mirror or enjoy sunlight pouring into your living room through your bay windows, you are taking advantage of one of the most useful and versatile materials on Earth. In order to ensure ongoing proper function and beautiful looks from these products, however, it is important to seek assistance from a professional glass company when you need new or replacement glass. If you're in the market for services such as window glass repair or shower glass door installation, contact the team at Dave's Glass Co. We proudly provide residential and commercial customers throughout the Albany area with a wide range of quality glass services, from crystal repair to made-to-measure mirrors to commercial glass displays. Call or email us today for a full list of our professional glass services, and to receive a free estimate on your project.
Had a storm window repaired. Friendly prompt service, & affordable too!
My new shower door is absolutely beautiful! I loved the prompt service from the initial consultation to the installation. The installers were very professional despite being pestered by my two slobbery very bad mannered boxers. On time, within budget and very nice people to deal with – you can't ask for more.
We had a window broken at our office, and Mike can the same day to measure. Did a great job, good as new!!!
We needed the glass in several large, single-pane windows to be fixed, but didn't want to fully replace the window itself – Dave's Glass was perfect for the job. The owner and staff were responsive and personable and the work was done quickly and well. Everything looks great, and I'd gladly work with them again!
The new piece fits better than the original. Thank you, Dave's Glass. I had an elliptical oval wooden coffee table to fit new glass – the bevel and careful glass selection made by the professionals at Dave's Glass were attentive to the furniture and have brought it into good use. It is no longer sloppy. As a matter of record, it was a pleasure to deal with the people from this business on the phone as well in person.
Your Local Glass Replacement Specialists
Quality Matters to Our Glass Company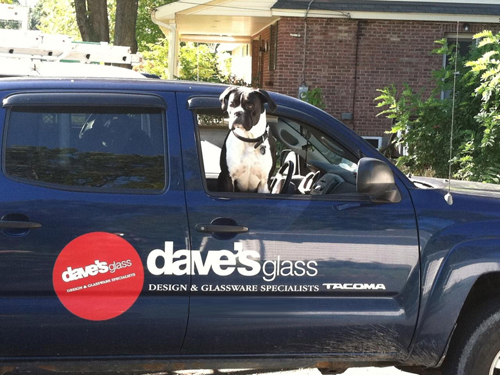 Since we opened our doors in 1983, Dave's Glass Co. has been committed to providing each and every customer with individualized attention and superior craftsmanship. Our aim is to ensure that our products directly contribute to the continued improvement of your home and success of your business. We create glass for buildings (such as glass panels and storefront glass), windows, doors, and more. Call us now, or send us an e-mail if you're looking for assistance from a professional glass company. The right storefront glass or perfect window glass replacement can make a big difference in your property's beauty, security, and more!
Glass Services in Albany
Dave's Glass Co. serves customers located throughout the Capital District, including in Albany, Delmar, Slingerlands, Bethlehem, Ravena, Selkirk, and other nearby municipalities. We are a fully licensed and insured, family-owned glass company that is ready to do whatever may be necessary to provide you with quality glass services that will bring you many years of reliable performance. From the initial planning and design to the finishing touches, you can depend on us for honest service and solid results.
Email us or call today to find out more about handcrafted mirrors, stained glass repair, and other specialized services.